The Comprehensive Guide To Finding A Job In The Modern Era
You've resigned or been laid off and now you need a new job. I get it because this is where I found myself after
shutting down my marketing company in 2014
. During the end of that transition, I thought I would end up finding traditional employment working for a business so I took the initiative to make this happen. 
While I ended up becoming
a full-time freelancer instead
, I ramped up my activities in a way that was helpful to landing a new job. In fact, some of the potential job opportunities turned into freelancing work. 
If you're asking why in the world I'm writing about job seeking when I'm excelling at freelancing, it's because I've got multiple people in my community seeking a job, and
as part of this writing challenge
, I came across an old
Evernote
where I outlined what I was going to do to land my next position. While I don't expect to write a book on the topic, I can at least share these insights and empower those in need here in this blog post. 
Let me clarify one thing before I share all this advice. For most of my life, I've actually worked with companies as a freelance contractor. There was a part-time customer service job I had through an Internet provider, I worked at Subway as a sandwich artist, and I was an official employee of my own marketing company, but my experience finding work as a true employee is limited.
Many of the tips in this article came from the learned insights I gained when shutting my company down and pursuing traditional employment. Instead of actually landing a job, I stumbled into
full-time freelancing
before I embraced it fully. So, consider this advice from a business owner and freelancer more than it is a person who has had a history of finding traditional employment.
Here's my insighton how to effectively position yourself for the ideal position and company. 
Start Meeting With (& Calling) People Every Day, Multiple Times
In January of 2014, I decided to end Noodlehead Marketing on the last day of March 2014. With this three month window, I was compelled to engage in my community because I couldn't finish the race on my own. I needed help. So without fully realizing the benefit of doing so, I started meeting with about a dozen people per week. Some were people I knew, while some were ones I hardly knew. Others were people I never met. 
I went into all of these meetings without a clear picture of what was next. Was I going to start another company, freelance or become employed by another organization? I didn't know but what I came to realize was these meetings helped me work through this question as others gave me ideas, feedback, and insight. It was educational, encouraging and productive. 
In this Airtable base,
you can track your relationships, follow-ups, and job opportunities. In large part, my quick success as a freelancer came as the result of this community engagement. Not only was I meeting with people regularly, I was also following up with each of them up to five times during this three month period. The driving reason behind this follow up came from sales research that concluded 5-12 follow up interactions was what it took to land a deal. Giving up beforehand meant leaving money on the table. So, I approached finding a job like a salesperson aiming to win the numbers game. 
This also meant I was connecting with people on social media as my way of accelerating and improving these interactions. LinkedIn was a terrific resource to help me succeed. But, it wasn't just social media. I was also emailing, texting, and calling people to build these relationships. 
The key here is ensure your relational interaction activity is high.
Leveraging LinkedIn 
If your LinkedIn profile has collected dust, this is the prime time to update it. I was recently complimented by a resume writing expert about starting my LinkedIn summary with a powerfully written recommendation (see below). It sets the tone and positions me well, right from the start (I suggest you do the same).
"With absolute confidence, I can say that Jason is a rock star when it comes to vision casting and problem solving. He is very strong at breaking large issues down into bite sizable tasks that accomplish big goals. I have been very pleased to work with Jason." - Scott Dios
Throughout my profile
, I also use a volume of
action words in bullet points
to concisely communicate what matters. If you skim it instead of reading it, you'll get the important nuggets. Like effective journalism, share what is most important quickly (
and first
) and add the details below.
I was prudent to have collected numerous Linked Recommendations over the years, but I also wanted new ones. During this transition, I requested people I knew write one up for me. I also wrote recommendations for those I requested ones from and which were warranted. I'd also encourage you to populate your featured skills and endorsement section. 
When it comes to birthdays and work anniversaries on Linkedin, make use of this information by reaching out to people with a small note. A large part of marketing ourself is about reminding people we exist and what we're currently doing or looking for. In this same vein, I'd also recommend sharing articles, photos, videos, and ideas through the status update tool. 
The Linkedin blogging feature is a way to establish authority and stay active on this business social platform. I had a friend who was doing this regularly and as a result of these blog posts, the department of defense and a few other government agencies reached out to him about his expertise. I've also experienced numerous positive results from staying active on Linkedin and posting blogs through their platform. 
If you're seeking a job, plan on spending a few hours each day on the platform making the most of it. 
Other Social Media Channels
Regular value-based activity on social media, even outside LinkedIn, is important for any job seeker. While we want to clearly let people know our situation and how they can help, we want to avoid begging or asking people to do things we should be doing for ourselves. 
To ensure we get the most out of our social media activity, we'll need to update our profile with a recent photo, bio, links and work history as the social network allows. 
When I went into search mode, I updated my LinkedIn, Facebook, Twitter, Instagram, and Pinterest profiles. I also maintained activity on all of these platforms, so only setup or update channels you plan to use. 
An easy way to do this is by consuming a great deal of content and leveraging a tool like
Buffer
to share these links across the social media channels. While communicating a message is important, just reminding people we exist is half the battle.
Getting Focused On What You're Seeking
Getting active and networked is a huge part of succeeding in the job search but it's also important to get hyper-focused on what type of company you're looking for and what ways you can provide the most value to them. 
As a working exercise, start by Identifying and writing up target job opportunities. For me, I was seeking an organization positioned to grow. They would have matured out of the startup phase and needed rocket fuel to scale the business up. This is both a type of business I could add great value and was also the type of organization I wanted to join.  
The seat on the bus of this business that suited me well was director of marketing (digital and content driven) or a VP of sales and marketing (bringing alignment between these two areas towards a common goal).
While it took me some time to land on these two focal areas, it helped me search effectively and ask for more precise help on the journey. Take some time and think about what type of company you want to work for and
what value you can add
.
Resumes, References & Creative Ideas For Landing That Next Position
While seeking a job opportunity, we can't forget the basics of building a resume and collecting references. We also want to explore creative ideas to help us stand out from others when we're applying. How are we uniquely better? Instead of rehashing the insight that is written and shared across the web, I'll share the following list of resources to help you approach this process slightly differently.
Linkedin Generated Resume: If you're searching for a job, you're likely going to need a resume. If you want to make your job easier, simply update your Linkedin profile and use a tool to craft a resume from it. Check out LinkedIn's Resume Generator, Visual CV & Resumonk to get started.
Arranged References: Knowing they would inevitably be requested, I garnered three people who'd be willing to act as references on my behalf. Have these reference's permission and contact information ready to go before you start searching.
Visual Resume Teaser: Using the free Google Draw, I created a visual graphic to quickly communicate who I was and my strengths (see below). This made it easy for others to share this graphic with others to help unveil opportunities. If you're not good with Google Draw, simply load up Canva.com and make something using one of their templates.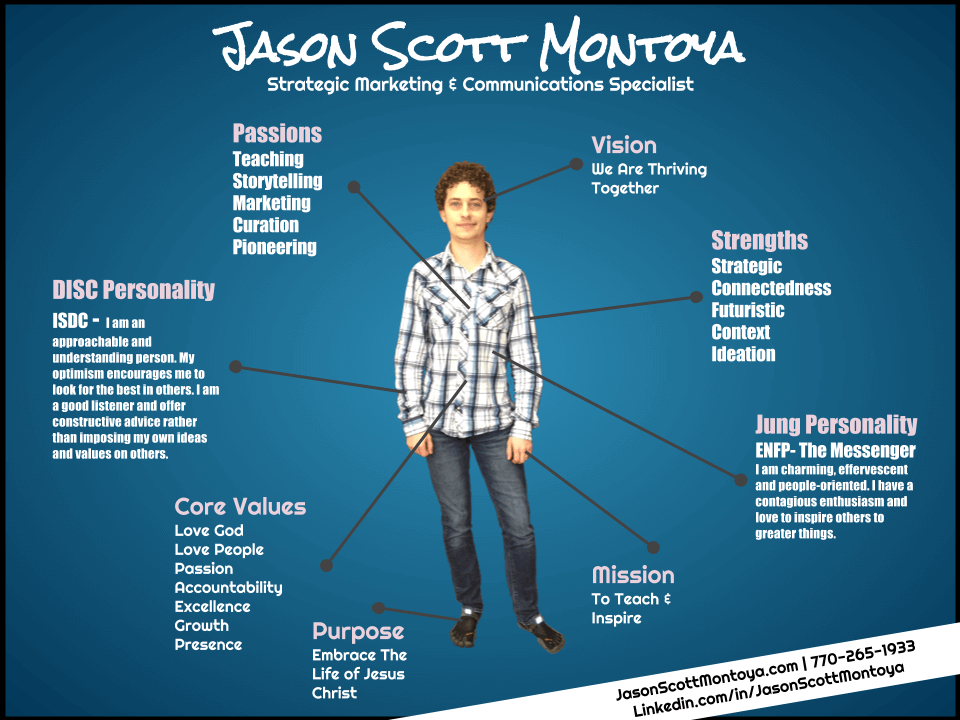 Getting Connected To Job Seeking Communities In Atlanta Georgia
When it comes to finding a job, it's best not to go at it alone. This is why local community events to help those in a career transition move along quickly are vital to your success. For those in the Atlanta area, here are two terrific events to explore.
Northpoint C3G: Every Monday morning, Northpoint Church hosts a job seeking community event. This is a terrific place to meet others, get connected, and refine what you're looking for in your next job. If you're seeking a job, you should be there every week. Click here for more details.
Roswell United Methodist Church: RUMC hosts every other Monday, a job networking day. It includes networking and workshops to help you get back into the workforce. Click here for more details.
You can't do this alone, so make sure to engage in community activities to make this process smoother.
Blogging Is A Game Changer
If you want to grow as a leader, build authority, and attract potential opportunities your way, you'll want to tap into blogging. Since content is the foundation of the future of marketing, you'll also be able to leverage this platform for whatever company you end up working with if you decide to continue the practice after getting hired (which you should).
While I ended up becoming a full-time freelancer, blogging was a large aspect of my strategy that resulted in many of my clients at the beginning, and ongoing. 
If you need a place to start blogging but are not technically oriented, I recommend using Linkedin's blog function or start one up on
Medium
.
How To Fill In Those Financial Gaps
At the end of the day, we've got to make some money to fill in the gaps. The limbo time may we require we get menial part-time jobs. If you find yourself in a situation where you need some income, here are some ways to earn a little extra cash to buy you time. 
Where To Find Job Opportunities
Ideally, you'll discover opportunities as part of your aggressive meeting and network activity. With that said, it's also good to plant seeds in different areas so here are several places around the web you can start looking for your next career move. My insight in actually applying for jobs is limited to the following list of places to find opportunities (explore the web for further insight). If you don't know where to start looking, start with these four websites.
These online portals are a great starting point for finding open opportunities, but there are hundreds of others. If there is a specific type of role you're looking for, I recommend seeking out a job placement site that specializes in that area. Let it be one of your points of focus in the job search.
Be Fully Committed To Landing Your Next Position
When you dive into your job search, make it be a full-time job to find the next job. Not only will you be more successful, you'll also prepare yourself to be a terrific team member for the company you get hired by. 
It won't be easy and it could take time, but if you persevere, get feedback, and constantly improve, you'll land a position. 
Now go out there, leverage my Airtable template, and make it happen!
Additional Resources
Created on .
Last updated on .