What Software Tools Do You Launch at the Start of Every Day?
Staying focused and preventing distractions starts with a strong daily anchor point. For me, it's quickly loading four website dashboards (via a bookmark tab) to give me visibility of the horizon, what needs to happen next and a pulse of what's going on in my freelancing Business. 
These four daily startup tools include my habit management tool (Habitica), my freelancing dashboard (Airtable), my time tracking software (Timecamp), and my great finance and invoice manager tool (Harpoon). 
These apps help me stay focused and move forward. They stay open on my second screen all day, so I can easily access and update them throughout. Below, I dive into these four dashboards and how each helps me perform at a high level. Let's star with habit management.

1 - Habit Management Tool - Habitica
Habitica is a gamified habit management tool that helps me continue the grind even when I don't feel like it. It contains a feature called dailies (recurring tasks) that is most helpful. If these dailies are not completed by day's end, my profile loses life. If I lose too much life, I die, losing all gold and an item from my character's inventory. 
On a practical level, there's a simulated consequence for when I don't do what was designated to be done. This consequence tension is the power of any habit management tool and what makes it stronger then simply a task management tool (at least if one buys into the gamification aspect). On the flipside, if I knock out my dailies I can create streaks, and accumulate gold and items. These treasures can be used for in-game or real-life rewards.
This tool also allows me to manage my trigger-based actions (what Habitica calls Habits) and a to-do list (for nonclient actions I want to tackle). It's a great tool for managing my dailies, habits, and tasks. 
Habitica has both a free and paid version.

2 - Freelancing Dashboard - Airtable
Airtable is a powerful database tool that allows users to look at their data pretty much however they want. I think of it as a simple app building tool. And for my freelancing, I built a dashboard to simply manage my incoming work, contacts and financial numbers. 
Since I keep it up to date, I can easily have visibility on my freelancing business on a daily, weekly, monthly and annual basis. When I jump in halfway through the month, I can see how well the month will play out ahead of time. If I anticipate it'll be slow, I can start pulling some levers to shore up the lag. If there's more work than I have time to handle, I get focused on the most important tasks that need to get done, pace my clients and slow down (or refer) new potential work.
By executing monthly reports, it also allows me to reflect on what was done and provides an overview to share with my wife, so she's in the loop and aware of our financial health.
If you're interested in using Airtable, I've created a few templates including my freelance dashboard which you can view and copy in the Airtable Universe here. 
Airtable is free to use with limitations. Upgrade to gain full access.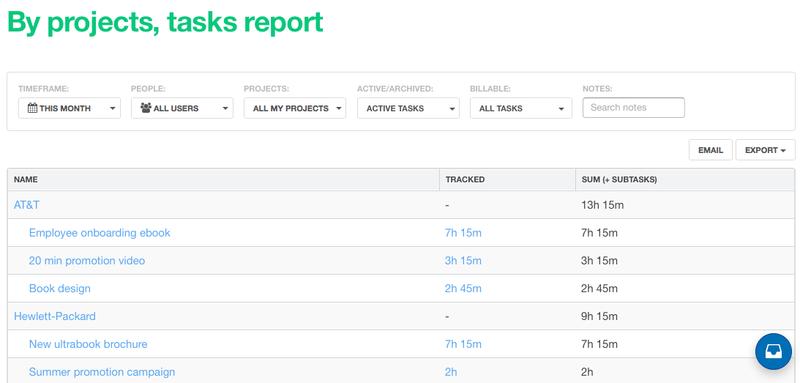 3 - Time Tracking Software - TimeCamp
Just about every minute I spend working on paid client projects or my own stuff, I'm tracking my time with Timecamp. Not only does it help me have visibility and accountability, but it's also necessary for my hourly client work. 
On a daily basis, my goal this year is to log just short of six hours per day, around twenty-eight for the week, and 122 for the month. As I'm progressing through these different time windows, I'll run quick reports to see how I'm faring, and whether I need to step it up or slow it down. In that sense, it acts as my speedometer.
The reporting is also easy to use and comprehensive. I can pretty much run a variety of short and long-term reports to view the timed data in different ways. 
Timecamp has a free version for freelancers with limitations. Upgrade for mobile apps, integrations and expanded reporting functions.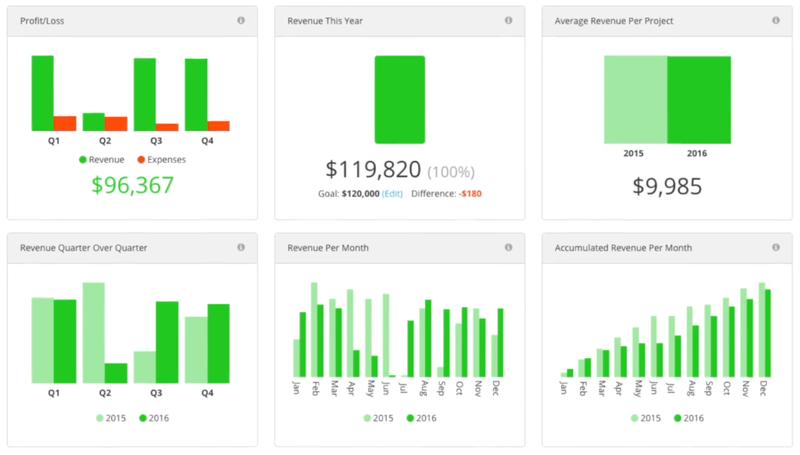 4 - Finance & Invoice Dashboard - Harpoon
Have you heard of Harpoon? (affiliate) We're in such a rich entrepreneurial culture at this point on the history timeline, we have many options for tackling our various business challenges. This abundance provides many resources that are more likely to align with our approach to life and work. Harpoon happens to be that tool for my freelancing business. 
Fundamentally, I use it to manage my invoices and provide a dashboard of metrics including simple financial forecasting (usually limited to larger companies), accumulated revenue, outstanding invoices, revenue by the quarter compared to the previous year, to name a few. 
Harpoon also automates some of the tasks (like late invoice reminders) which usually bog down freelancers, and sends out email reports weekly, monthly and annually. These act as a pulse check and can be sent to multiple people including our spouses.
It also has a neat schedule tool where I can track the income over time and see where recurring and expected invoices should hit the bank. This tracking is also an indicator to show if I'm running ahead or behind my annual income goal (which it has users set when signing up for the tool). As I write this, it says I need to collect $3,501 more dollars this month to hit my goal for April. I've currently got $4,360 in outstanding invoices so I can realistically expect this to happen.
I'm currently using the freelancer plan with Harpoon at $15/month (paid annually). There's also a studio and Agency plan if you need additional users. Click here to learn more about Harpoon (affiliate).
The Daily Routine Browser Launch
In my Chrome browser, I created a folder on my bookmark bar called work. All four of these tools are inside that folder. When I start my workday, I middle click the folder to launch all four tools in a new tab and move that window onto my second screen. It's become so ingrained, when I don't have that collection of tabs up or I'm not using two screens, I feel something is off. 
But, by having this focal point of my efforts, I stay on track and get distracted less often. What about you? What tools are part of your daily startup routine?
---
Hero Photo by The Roaming Platypus on Unsplash
TimeCamp, Airtable, Harpoon, Habitica
Created on .
Last updated on .