September 2018 Reflection Point: 12 Lessons Learned, 10 Quotes, 2 New Things, & Goal Updates
There was a seismic shift last month and out popped our fifth child, Zoe Rene Montoya. You can get the wonderful details and see more beautiful photos here.
My generous mother was here to help out around the house and with our other kids so the transition was fairly mild (especially compared to the last two).
Thanks to The Painted Frog Studio, I was able to commission my mom a personalized gift made in her image (to match the one I had made for my dad a few months back).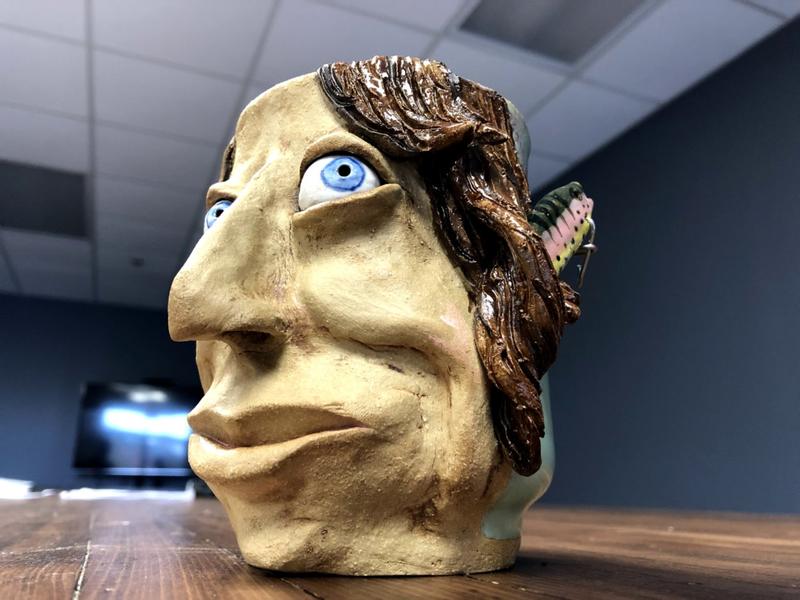 So far, Zoe's appearance has only been a blip on the radar (our family has yet to descend into a chaotic place of unbearable craziness). But with my mom now gone this month, real life hits as we adjust our family to the updated paradigm. One good tensions is me getting up to send the older two kids off to school. This will be a welcome change for starting my days off strong.
If you are interested in helping out (and we would appreciate it), we have a meal train here.
Below is a quick update about my freelancing work before I dive into lessons learned, quotes, and new things further down the page.
Freelance Work Update
October New Work Availability: 2 Batches
There were two issues I faced and failed to plan for in September. First was the limited amount of weekdays. There were only twenty (instead of the normal 22-23) and since I took off two days for our baby's birth I was left with 18 days. Because I didn't amp up my activity, my hour count was lower in September when it didn't have to be (since I have overflow hours going into October). 
Because I bill hourly, my monthly income fluctuates based on the number of days worked and I only work weekdays. To hit my top tier monthly goal of 122 hours, I needed to maintain close to 7 billable hours per day for 18 days. I was about an hour per day short, finishing off my month at 101 hours (21 hours short of my top tier goal). My plan in October and the remainder of the year is to increase my pacing to help bridge the gap.
The goods news is the influx of new batches from mostly existing clients and one that came through a recently created page about building Joomla websites. Much of this will overflow into October and strengthen the water tower, which took a hit at the end of August.
On to lessons learned!
12 Lessons Learned
Below I share a variety of things I've learned over the past month to provide a place for me
to capture them
and for you to benefit. 
Instead of asking for permission, ask for objections.
I'm not interested in becoming a one-time hit (eg. music charts), I'm interested in becoming a classic.
Don't be a knowledge barrier, be a conduit providing information and complete perspectives on that information. Allow & trust students/readers to apply it appropriately.
What is a blessing can feel like a burden when the blessing is necessary to survive or fulfill obligations. It's why living with margin is so important.
It's important to embrace the feeling of having a financial burden. It drives us to eliminate this challenge and reminds us why we should not choose to wear it again.
It's super important to leaves ourselves open to learning, even when we have deep knowledge and experience in an area.
When carrying a heavy burden, even a short distance walk feels like forever.
We humans have a short-term perspective of our history. If we zoomed out, we'd have a better understanding and less fear-driven panic.
Let's position ourselves to have the maximum impact on those around us.
What matters more than a failure is how we respond to that event.
Slow to reflect and act allows us to notice things we would have otherwise missed.
When we believe one thing and our paradigm is challenged by a different reality than we expected, we're forced to face the anomaly. This apparent contradiction is key to our growth.
10 Notable Quotes
The following memorable quotes were collected over the past month. Enjoy!
Reason can get you to probability, but only commitment can get you to certainty.

— Timothy Keller (@timkellernyc) September 26, 2018
"A river is victoriously persistent, overcoming all barriers. For a while it goes steadily on its course, but then comes to an obstacle. And for a while it is blocked, yet it soon makes a pathway around the obstacle. Or a river will drop out of sight for miles, only later to emerge again even broader and greater than ever." - Oswald Chambers

"Inbound marketing is like a flywheel that takes Herculean effort to get moving, but once it's going it's easy to maintain the momentum with minimal effort. You have to be willing to invest the effort up front believing it will pay off." -

Win Without Pitching

"An individual is free only to the extent of his or her own self-mastery. Those who will not govern themselves are condemned to find masters to govern over them." – C.S. Lewis

"So don't worry about tomorrow, for tomorrow will bring its own worries. Today's trouble is enough for today." - Jesus

"Admitting one's own faults is the first step to changing them, and it is a demonstration of true bravery and integrity." — Philip Johnson

"When we are no longer able to change a situation, we are challenged to change ourselves." — Viktor Frankl

"Jesus Christ reveals, not an embarrassed God, not a confused God, not a God who stands apart from the problems, but One who stands in the thick of the whole thing with man." - Oswald Chambers

"Being deeply loved by someone gives you strength, while loving someone deeply gives you courage…" - Lao Tzu
It's easy to trust God when He does what we want; it's the other times when we grow.

— Bob Goff (@bobgoff) September 29, 2018
2 New Things
The following five things were interesting and helpful resources. I'm passing them on.
2018 Goals Monthly Pulse Check
Below is the monthly update on my goals set for 2018. This visual section leverages the color zone system. Red is poor, yellow is mediocre or troubling, and green is stellar/on track. 
Active Goals
14 of 25
Daily Utmost & Bible Verse
2 of 20
Evening Kiddo Snuggle Time
Highly Engaged
Men's Community Engagement
386 of 400
400 Published Articles
100% Finished
Payoff Kia Sedona Auto Loan
Resting @ Inn After Dying
Habitica Habit Management & Todos
Stuck On 4th Editing Pass
Finish Writing 2nd Book
109 Fewer Hours
Sustain 2017 Income, Fewer Hours
1 of 8
One Mile, Eight Times/Month
On Hold With New Baby
Gwinnett Church Volunteering
Due To New Baby
Canceled: Read Book With Wife
A Roundup of Newly Published Blogs 
If you missed any, here is a list of all new blog posts published this past month.
Personal Development
Marketing, Sales, & Systems
My Story & Work
Communication, & Blogging
Created on .
Last updated on .