March 2018 Mini-Experiments, Goals & Events
March is here and the time has come to look ahead. Do you know what you want to accomplish by month's end? If not, here are ideas of what I'm working on as a way to inspire you forward.
My Brief List of March 2018 Goals
Let's explore my biggest milestone before we jump into several new mini-experiments & the details on these monthly goals.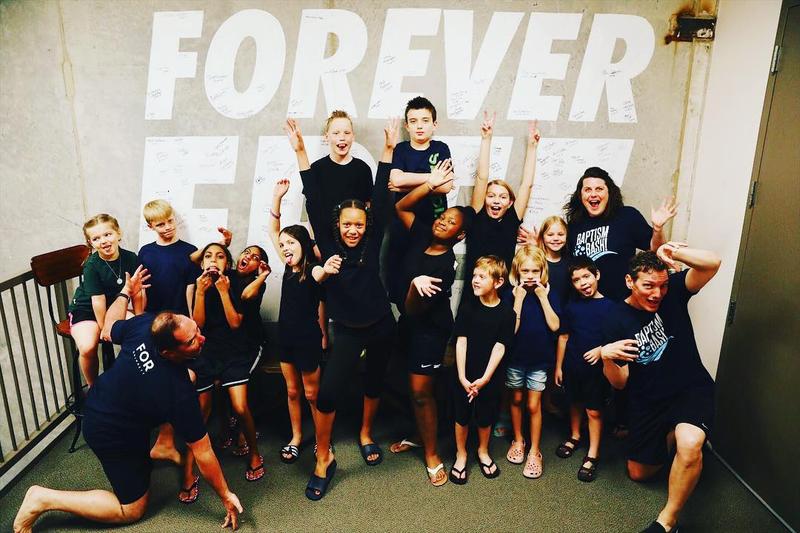 My Daughter's Baptism
The most important event to launch this month was the baptism (March 3rd) of my oldest daughter. On her own accord with the support and guidance of my wife and Gwinnett Church she publicly proclaimed Jesus as her Lord and Savior. An exciting adventure awaits her on the journey. We had an abundance of friends and family join us in this wonderful celebration. This will certainly be an event my daughter always remembers.
March Mini Experiments
Each month I reflect on the month before and post about my aspirations for the month ahead. Since I've been creating these forward-looking blogs, I've actively thought about ways to make them more valuable to you as the reader. One idea I'll be experimenting with is a section of mini-experiments for the upcoming month. This helps me capture and mark what I'm doing while also sharing interesting initiatives you too could explore. Here's a list of what I'm discovering. 
After writing my popular post about The Last Jedi, I became highly engaged with others on Twitter. This sparked an interest to continue the effort. What does it look like to be the ideal follower on Twitter? For this month I'll explore the idea of not just observing the stream of tweets, but actually engaging with them. 
Also on Twitter, there is a series of trending hashtags each day. When I'm on pruning who I am following, I'm also reviewing these tags to find opportunities to share my blog posts on the wave. I'll continue testing this idea out for the duration of the month.
Speaking of Twitter pruning, I've long desired to only follow accounts on the social media channel I actually am interested in following. As a result, I've spent the last few months and intend to continue this month, unfollowing people. I've gone from over three thousand to 598. I suspect I'll end up with around 2-300 when done.
I'm a long time fan and user of Buffer using both the free and paid account. As I've been blogging more often and sharing fewer articles I read, my needs for sharing have changed. I'm now more in need of an evergreen sharing tool and after testing both Recurpost and Elokenz, I've decided to take it to the next level and start paying for Elokenz. This allows me to add my library of content and it will share across social media in cycles based on the content popularity. If all goes well, I'll continue using the tool and likely become an affiliate.
Skillshare is an online marketplace for online courses on a variety of topics. An associate from their staff reached out to me about adding a course to their program. I've set up my profile and migrated the one course I created last year. I'll be finishing setting it up and getting my account ready to promote. 
Like the Twitter engagement I mentioned above, I'm also proactively engaging with blogs I read and Facebook communities I'm a part of as a way to build online relationships and grow my digital footprint.
I'm playing with the idea of producing an audio recording of my blogs using the easy podcast maker tool Anchor. This could allow me to easily podcast without having to produce new content. I'll continue playing with it this month to explore the potential, although I'll likely punt doing this seriously to later.
My March 2018 Goals
With new goals each month, I continue to move the Montoya family forward. Let's dive into the details of my four March goals. 
Finish Populating The Jump With Prewritten Content
In February, my goal was to populate my upcoming book for small business owners with existing content. I was able to get halfway through the process, but still, have more to go. My intent this month is to take the list of content I've historically created and determine if and where I want to include it in the book. The good news is that I've realized how much further along in this project I am. This is great for me because with a baby coming in September, I may not have the time to write the last several months of the year.
Improving Our Systems At Home
Speaking of this new child, we also need to get more organized and disciplined at home. I expect it is going to be one tough year after the baby is born when we also have four other kiddos running around. I want them to be taking care of their responsibilities and helping out their mother. As our first step, we're now strict about putting things away when we're done with them and cleaning up after ourselves. This includes the car and the house. If we clean and organize as we go and we each do it for ourselves while also helping each other, the shared burden will be something for us to realistically manage. As the year plays out, we'll add other initiatives to step up to this impending challenge.
Another Iteration of Service Page Improvements
Last month, I created several new quick case studies to add to my business consulting services page. On the business services section, I'd like to add hover tooltip bubbles to each item for further clarification. My other intent is adding links to articles for those who reach out to me about working together. My other goal is to create pages for all the individual services I offer as part of the larger package. I've already got a page to building Joomla websites, so I've started the process of improving and would like to finish it by month's end.
Home Improvements
Now a homeowner since March 2017, I'm responsible for its upkeep and it now has tasks requiring attention. As the house has settled, the trim downstairs has cracked. I've patched the cracks and now need to sand and paint them. Upstairs in the boy's room, the ceiling corner drywall is pulling the edging paper/tape out. I'll need to figure out a way to cover and repaint this so it doesn't happen again. Lastly, after my wife built our new dining room table, she purchased multiple tools and supplies. Now piled up in the garage office, it needs organizing and cleaning up.
March 2018 
With the milestone moment of my daughter's baptism, some fun experiments, and four goals to move me forward, March is going to be an active month for me as I also sustain my freelancing work as well. How about you? What interesting things do you expect to happen this month?
---
Created on .
Last updated on .