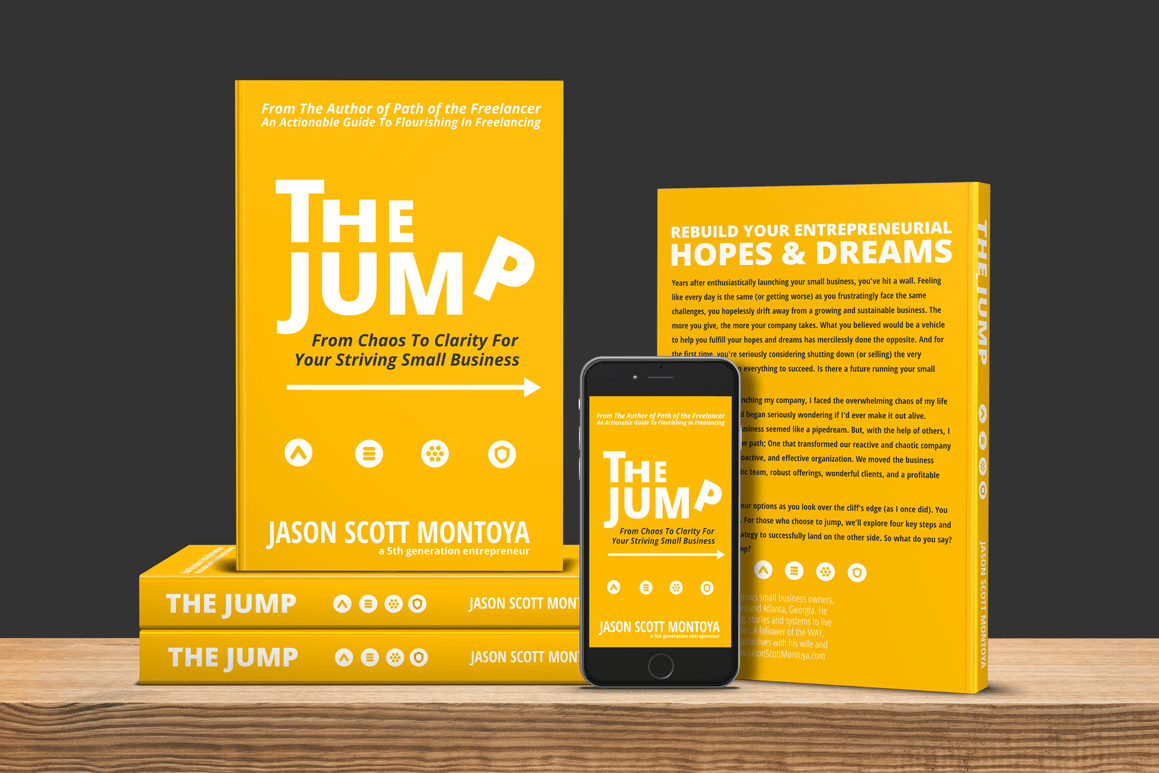 The Jump: From Chaos To Clarity For Your Striving Small Business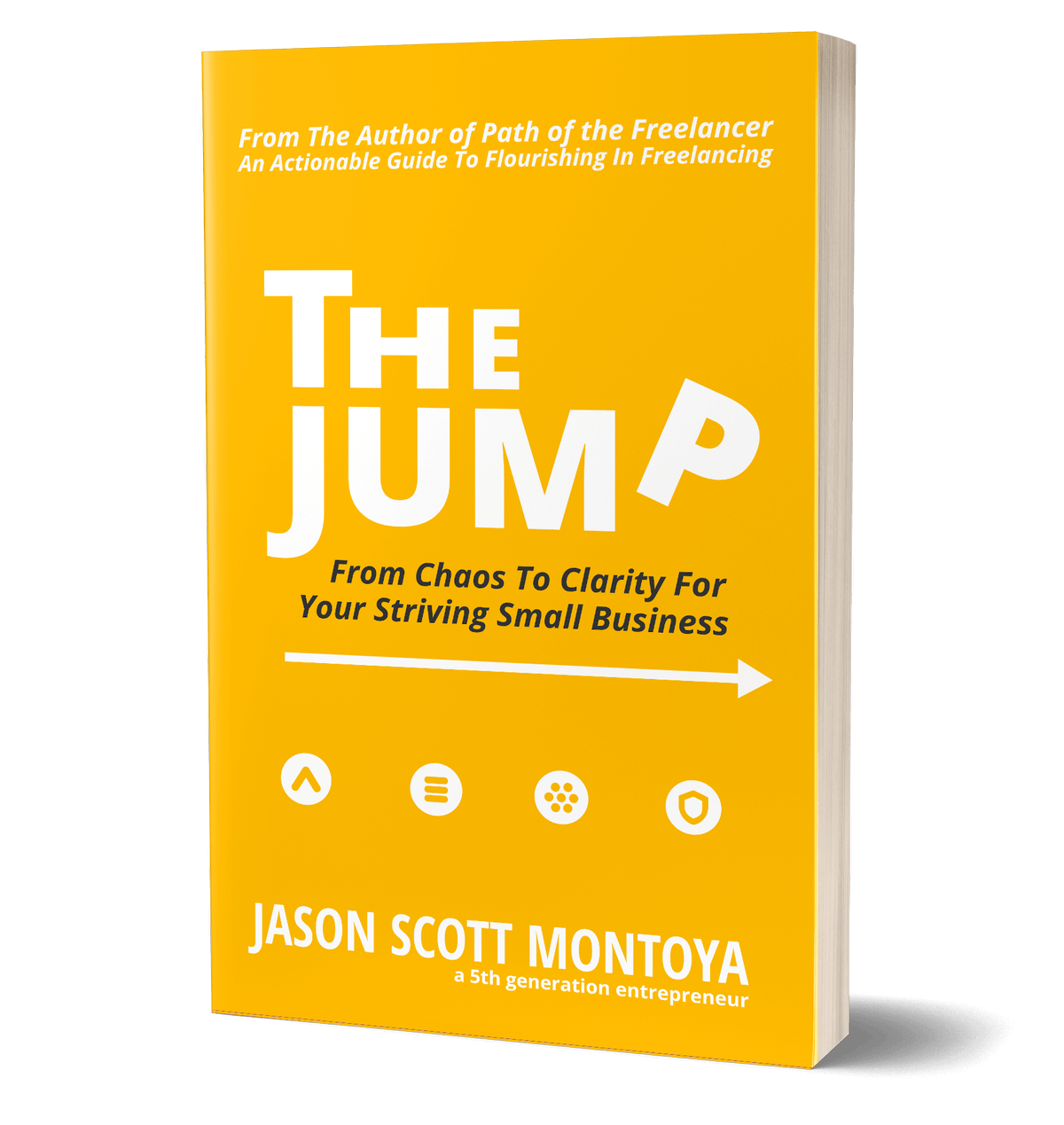 Buy The Jump On Amazon Download Free Chapters
Matchbook: Purchase the paperback copy & get the Kindle edition for free.
Standing On The Edge
As I stood on the edge of the gorge, I looked out across the horizon, wondering if I could make my small business successful.
Do I turn back now, or make the jump? 
Before, it was an easy question to answer. Now, I wasn't sure. 
Years earlier, nothing could stop my wife and I as we boldly moved from Arizona to Atlanta, zealously pursuing my entrepreneurial dreams. 
With an abundance of potential ahead, we leaned in hard and fast in a variety of directions to make our mark, launch the company, and sustain a business that would facilitate our personal and professional aspirations. 
Slowly and surely, the tension and friction of entrepreneurship began to take its toll on me, our marriage, and company. The momentum and energy moving in our favor were rapidly shifting directions as it slowly began crushing us with it's increasing weight. 
The challenges escalated, and the doubt crept in. Was I capable of making the dream happen? Was it impossible for me to build a business foundation that would attract and empower a great team? Was having a sustainable ecosystem simply a pipedream? 
I was stuck, standing on the edge. 
On the other side of the chasm before me were my hopes, dreams, and aspirations. Out of reach, the other side felt like an impossible distance away. 
As I considered going back the way I came, I Imagined a failed entrepreneur who gave up when it was too hard. Was I a problem solver who couldn't figure out a solution?
I felt trapped. 
Should I walk back to 'safety' or should I jump?
Buy The Jump On Amazon Download Free Chapters
The Jump Free Digital Launch Box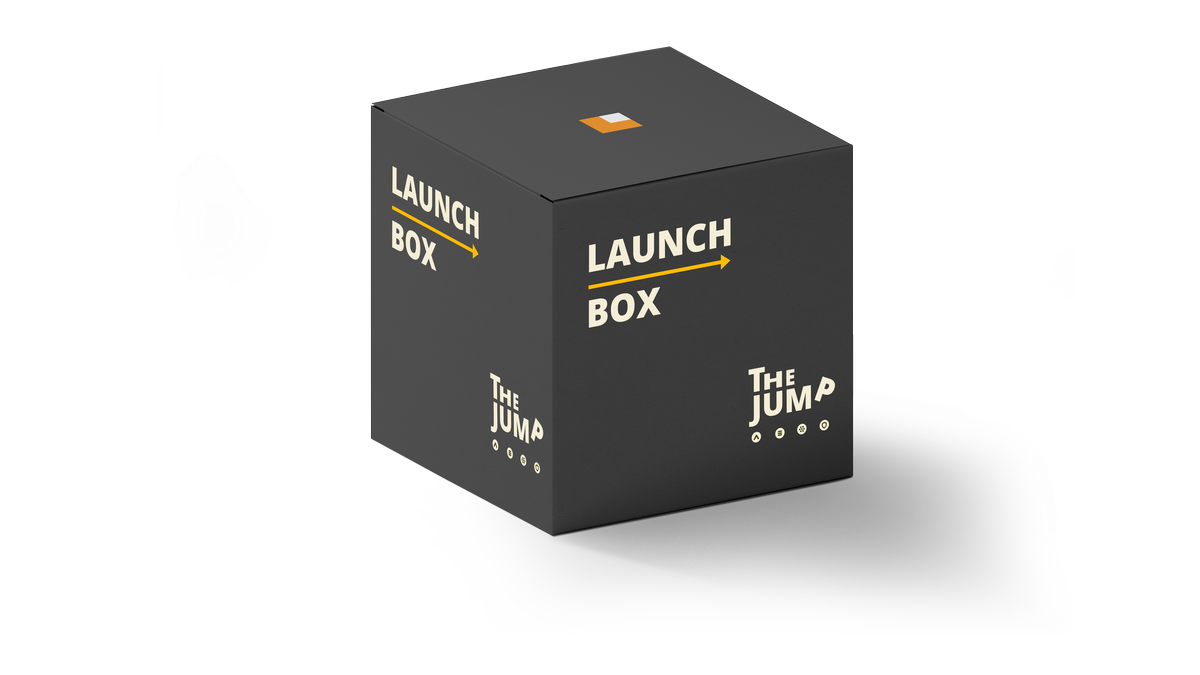 Free
Sample
Read the first two chapters (Facing The Chasm & A Powerful Plan To Move The Entrepreneur's Small Business Forward) of The Jump for free.
  Bonus
Material
Access The Jump Book Resource Center with bonus articles, quote collection, and resources to move your small business forward.
  Business
Toolbox
Access my top ten tools for successfully managing and promoting your small business. 
  Buy
Bonus
Get your free Path of the Freelancer digital copy with the purchase of The Jump. 
Sign up to access resources, and get redemption instructions.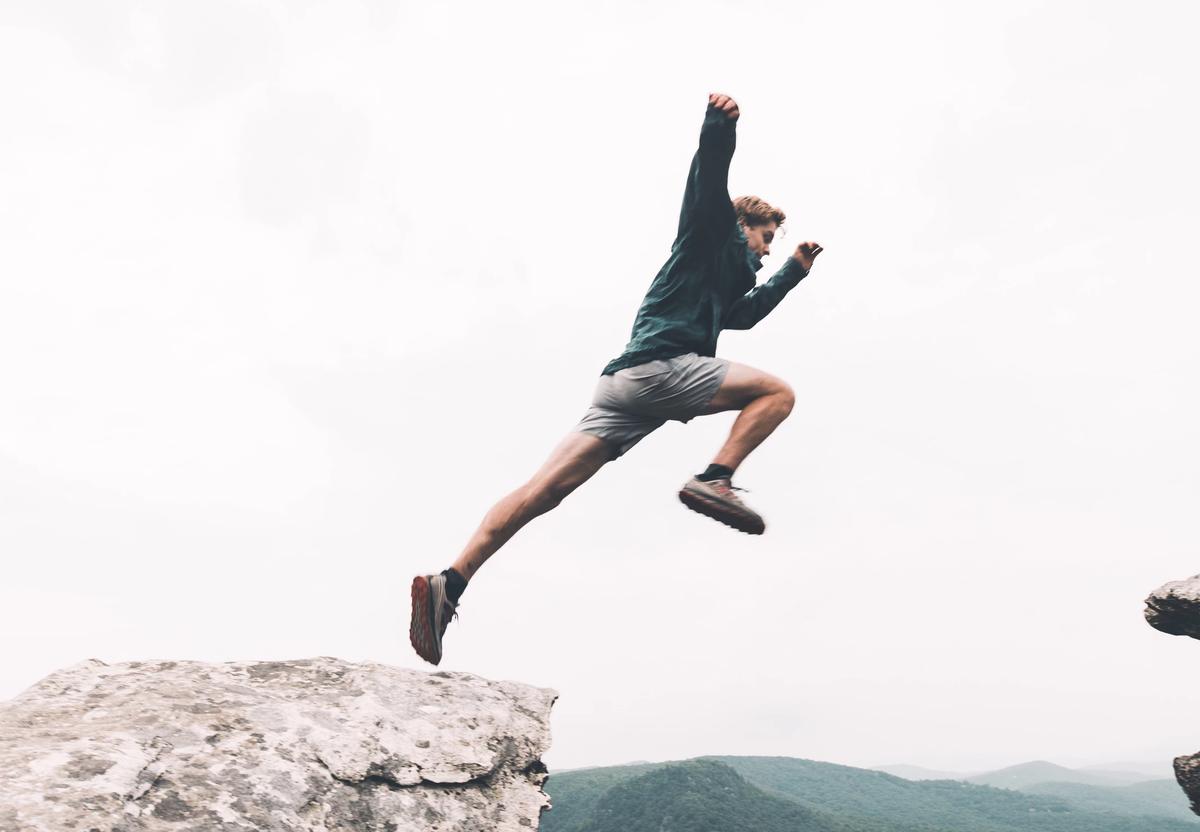 Rebuild Your Entrepreneurial Hopes And Dreams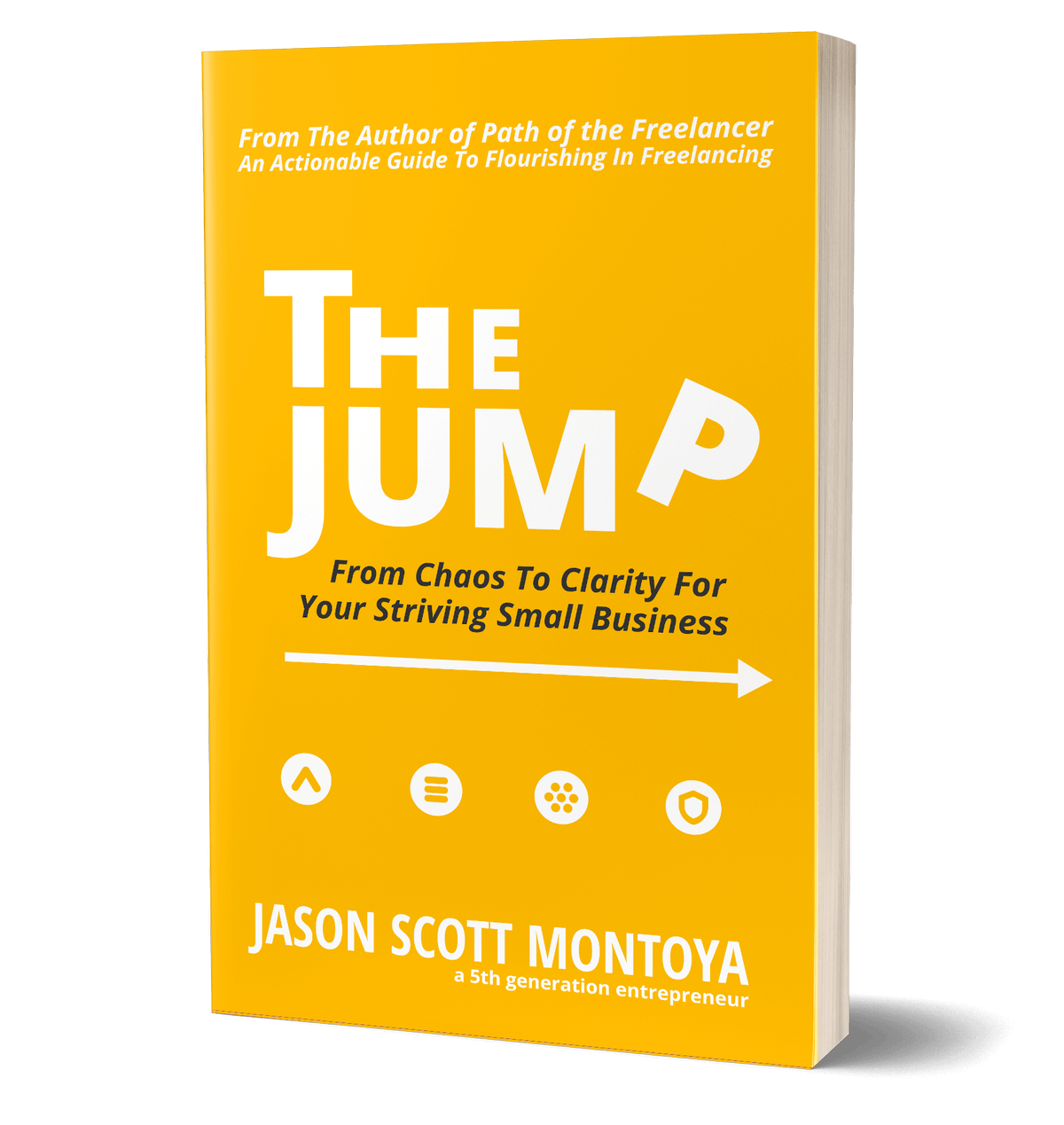 Years after enthusiastically launching your small business, you've hit a wall. Feeling like every day is the same (or getting worse) as you frustratingly face the same challenges, you hopelessly drift away from a growing and sustainable business. The more you give, the more your company takes. What you believed would be a vehicle to help you fulfill your hopes and dreams has mercilessly done the opposite. And for the first time, you're seriously considering shutting down (or selling) the very company you've given everything to succeed. Is there a future running your small business?
Several years after launching my company, I faced the overwhelming chaos of my life and small business and began seriously wondering if I'd ever make it out alive. Imagining a thriving business seemed like a pipedream. But, with the help of others, I found and forged a new path; One that transformed our reactive and chaotic company into an intentional, proactive, and effective organization. We moved the business forward with a fantastic team, robust offerings, wonderful clients, and a profitable operation.
In The Jump, I share your options as you look over the cliff's edge (as I once did). You can turn back, or leap. For those who choose to jump, we'll explore four key steps and a transformational strategy to successfully land on the other side. So what do you say? Will you make The Jump?
Table Of Contents
An Introduction By A Small Business Owner Friend
Part 1: The Problem
Facing The Chasm
A Powerful Plan To Move The Entrepreneur's Stalling Small Business Forward
The Five Natural Stages Of Every Organization
The Jump - From Rogue Action Management (Chaos) To System Oriented Leadership (Order)

The Noodlehead Marketing Story
Part 2: The Solution
Step One - A New And Better Business Requires A Transformed Leader
Step Two - Setting Up A Strong Business Foundation
Step Three - Make The Jump With Your Dedicated Team
Step Four - Transform Your Business With Bullet Proof Systems & Mental Models
A Five-Phase Process For Transforming Your Messy Business Into A Well-Oiled Machine
My Parting Words To The Visionary Business Owner
Standing On The Edge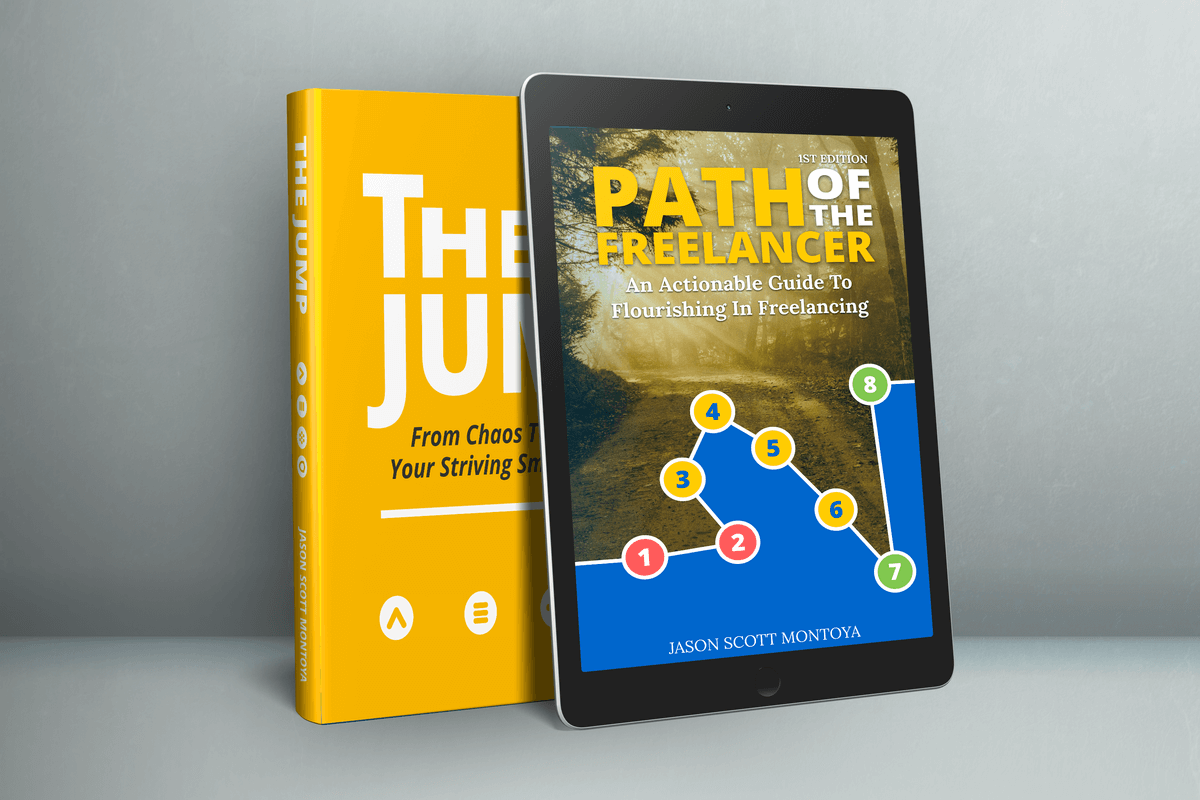 Get Your Free Path of the Freelancer Digital Companion Copy
Pair your purchase with a free digital copy of Path of the Freelancer: An Actionable Guide To Freelancing.
To get your free copy, simply fill out the request form (provided as part of the free Launch Box kit) and attach your Amazon receipt. You'll receive your free digital copy of this book for freelancers in your email inbox within 48 hours.
Meet The Author, Jason Scott Montoya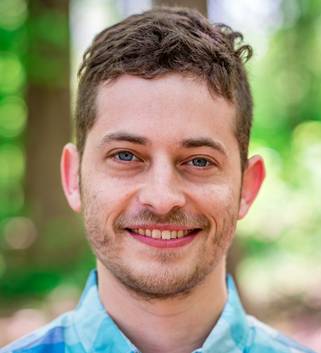 Hello, my name is Jason Scott Montoya. I'm a creative and entrepreneur who grows small business owners, teams, and incomes around the Atlanta, Georgia area. As a fifth generation business owner who works with entrepreneurs, I know what it's like to launch, build, and sustain a small business. It's no easy tasks, and often a lonely road. But working together (or through this book) you get some to help coach and encourage you forward, while also specifically addressing the pressing challenges you're currently facing.
Beyond reading this book, you can also follow along on my blog where I share stories and systems to live better and work smarter. A follower of the WAY, the Truth, & the Life, Jason lives with his wife and five children.
Move Your Perpetually Small Business Forward: Get The Jump Launch Box Now!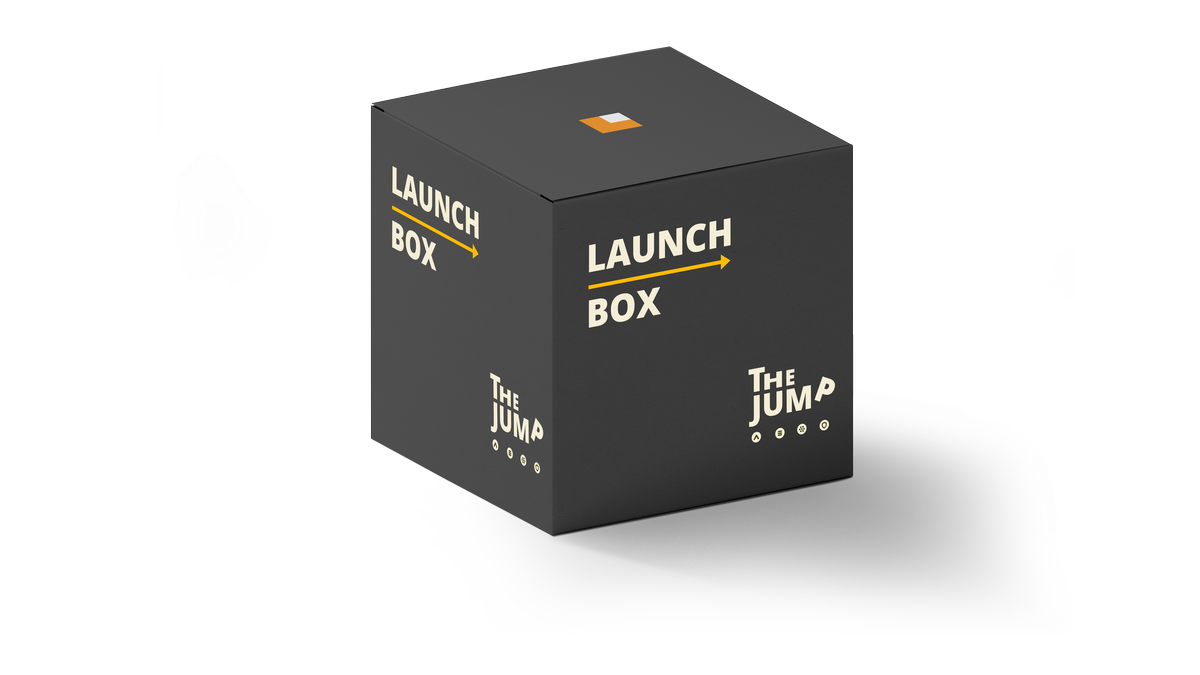 Fill out the form below and immediately receive The Jump Launch Box (an exclusive webpage, also emailed) with the following benefits:
The First Two Chapters of The Jump book.
Bonus articles & resources for small business owners.
My top ten tools for managing your small business.
Instructions on how to get a free digital copy of Path of the Freelancer with your purchase of The Jump book.
Get Started