Another Year (2016) In The Books
What began in 2014 and continued in 2015, has now become an annual tradition. This reflection point yearly blog post is my last write-up for 2016.
2016 has been a jam packed and accomplished year for my family and me. In February, we had Elihu Axel Montoya, our fourth child. In the spring, we began the process of buying a house, and I also published IDEMA. This fall, I've launched The Island Story and just recently finished writing Path Of The Freelancer, my first book. All of this was on top of excelling in my best financial year ever, as a freelancer.
It is by God's grace, the support of my love wife and family, and the encouragement of my community that has empowered me to succeed. Looking out on the horizon, there are also new and exciting changes coming ahead. Looking back, I am excited about the progress we've made and looking out on the horizon; there are new and exciting changes ahead. Let's dive in.
A Life Received And A Life Taken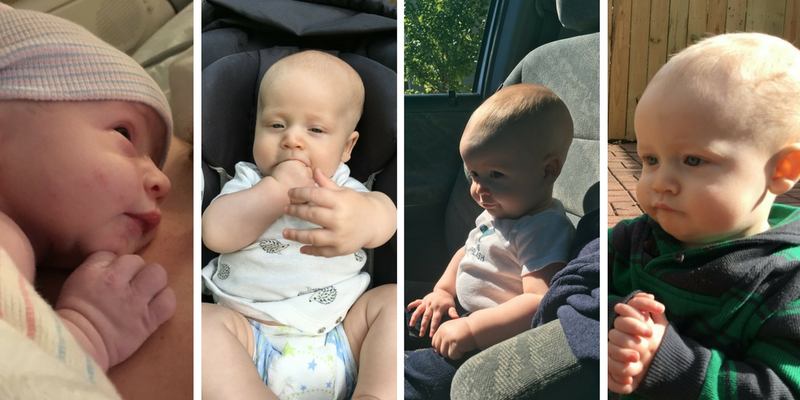 On February 10th, 2016 Elihu Axel Montoya was born. It was a few days before my great grandmother's 110th birthday. Unfortunately, she died a few weeks before her birthday and Eli's birth. When we first moved to Atlanta, my great grandmother was ninety-nine. We had the privilege to spend almost eleven years with her. Before that, I had received numerous cards from her and visited once, so it was a lovely blessing to know her in her last days.
While I found the third addition to our family, Judah, the most difficult Caitlyn has discovered adding a fourth child has been the most challenging of the four kiddos. While it has been a fantastic year of progress, it's also been a wild ride for sure.
IDEMA & The Island Story Launched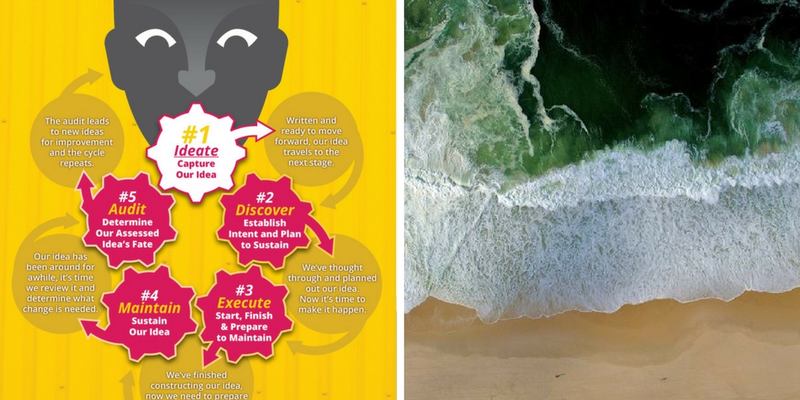 Two personally meaningful projects that became a part of my transitional season from closing Noodlehead Marketing was the publishing of IDEMA and The Island Story. They were both valuable ideas that came as a result of our journey and something us Noodleheads all wanted to package and share as part of the conclusion of the company. Going through the process of packaging and publishing them both has resulted in a healing and restorative process for me. Closing out the final pages of the Noodlehead story, I now feel free to look forward and transition into the next season of life.
Path Of The Freelancer Book Complete Plus A Look Ahead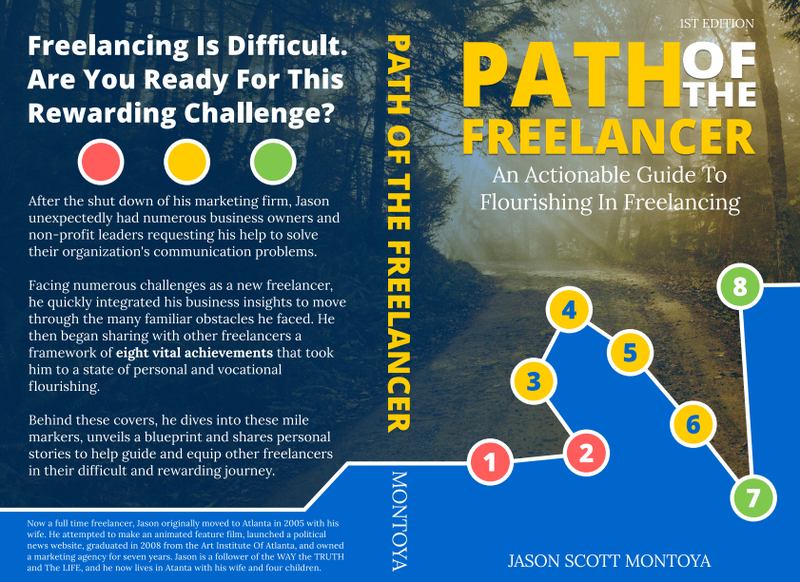 And speaking of new life, Path Of The Freelancer is the start of that new journey. It's the first book I've ever written; it is my attempt to launch a minimalist business, and it's a bridge to help transition me towards a profession in screenwriting. With the book now completed, I've sent it off to Amazon for review and hope to have a proof for consideration in the next few weeks. My intent is to finish up the website and plan out the marketing by year's end. The goal is to self-publish the book in April 2017.
This project is a compilation of everything I've learned, and I'm excited to see where God may allow it to go. One of my favorite Bible verses as a kid was Proverbs 16:3. "Commit your actions to the Lord, and your plans will succeed." This project is the start of my new journey and it's by the grace of God I've recevived this opportunity to move forward in a beautiful way. It's to Him I commit this book and the new season of my life. 
Excelling As A Freelancer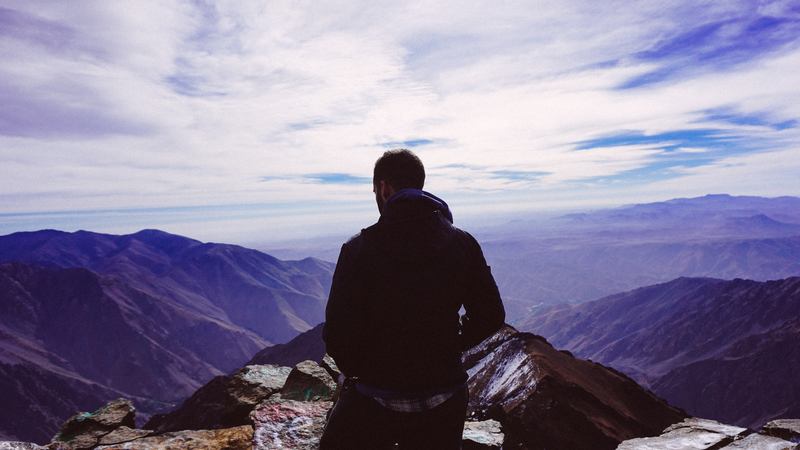 In terms of paid freelancing work goes, this year has been my most successful year to date. I'm on track to log almost three-hundred hours more than I did last year. I've been in the green zone with clients engaging in an ongoing basis and new ones streaming my way. I've increased my rate from seventy-five to eighty-five dollars per hour. I've had to turn down clients and bring in and refer many other freelancers. This success has allowed us to save for a house downpayment, make extra payments on our student loans and operate in a zone unaffected by the roller coaster that plagues most freelancers. After struggling in Atlanta for almost a decade, it's freeing and foreign to finally experience this type of relief.
As a result, I'm brought back to the words from Deuteronomy eight. These words are shared with the people of Israel just before they enter the promised land.
"Be careful to obey all the commands I am giving you today. Then you will live and multiply, and you will enter and occupy the land the Lord swore to give your ancestors. Remember how the Lord your God led you through the wilderness for these forty years, humbling you and testing you to prove your character, and to find out whether or not you would obey his commands. Yes, he humbled you by letting you go hungry and then feeding you with manna, a food previously unknown to you and your ancestors. He did it to teach you that people do not live by bread alone; rather, we live by every word that comes from the mouth of the Lord. For all these forty years your clothes didn't wear out, and your feet didn't blister or swell. Think about it: Just as a parent disciplines a child, the Lord your God disciplines you for your own good. - Deuteronomy 8:1-5
The House Buying Process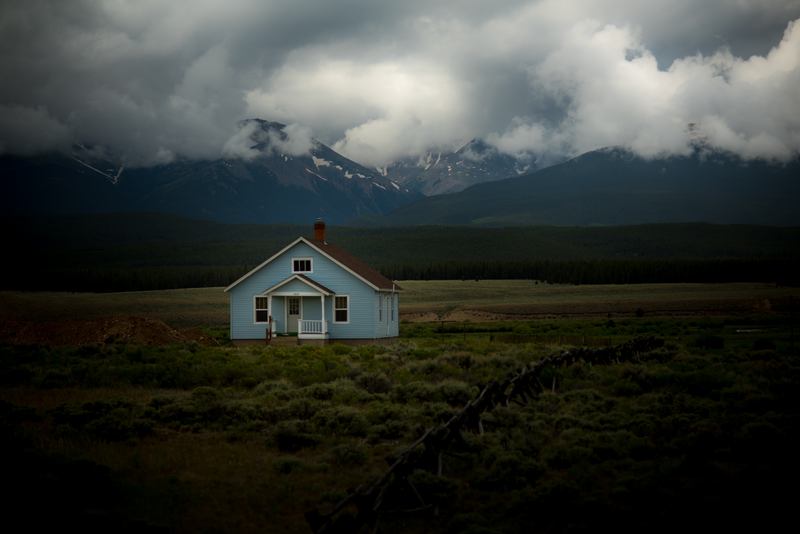 It turns out there was another aspect of Noodlehead Marketing that would affect our future. When I ended the company, I did not know what I was going to do next. In combination with contract work coming my way, I decided to continue using Noodlehead's bank accounts and tax id numbers for my freelancing work. Last year in August, I finally ended the company legally and started a new entity called Protheseos Inc. Unfortunately for us, this change was not something mortgage companies like. To them, I started a new career and they would not consider any income history as part of the qualification process. With perfect credit and a majority of our downpayment saved, we were preparing to buy a house around December. Unfortunately, after going through the process with three mortgage lenders, none of them were able to back our loan. We now have to wait until after we file our 2016 tax returns. This should provide enough history that we can get a mortgage and buy a home for the first time early next year. 
Other Tidbits
We've decided to leave the wonderful church we've been a part of the last five years, Generations Norcoss. It's been a wonderful community, but we've made the choice to move in a new direction. More on this to come in the future.
My wife Caitlyn launched a new website, Los Montoyas, where she shares her journey homeschooling the children.
I read Why The Universe Is The Way It Is, with a friend. It inspired me to read with someone else another book. As a result, I'm reading the Map with my father and a friend. Next up is the Screwtape Letters with my sister.
My Wall Of Gratitude
I could not have succeeded this year without the help of others. I've grateful to the community around me. Before I sign off for the year, let me take some lines of text to share my thankfulness.
Friends & Allies
Thank you, Heavenly Father! You've made this all possible.
Thank you, Caitlyn Montoya. I've enjoyed our marriage this year as we transition from one season to the next. I appreciate you bearing and giving birth to our lovely Elihu and appreciate all the hard work you put in taking care of him and the kids around the house. I'm proud of you :-)
Thank you, Madison, David, Judah, and Elihu! You're a beautiful bunch of kids, and I can't imagine life without you!
Thank you, Mom and Dad, for the support and encouragement you've provided over the year. We would not be where we are without the love you've given over the years. Dad, I appreciate you spending the time with me reading the Map.
Thanks, James Karwisch! I'm grateful for our friendship and value the conversation and discussions we have. We push and inspire each other to the greatest heights.
Thank you, Fred Hadra, and Tala Oweis for referring multiple clients my way this year. It's greatly appreciated.
Thank you Len Wikberg for your many moments of assistance and support in my creative endeavors (Island Story, IDEMA, Path Of The Freelancer, etc...) this year. I've enjoyed being your cousin, brother in Christ and friend. I am also very proud of the progress you've made in your journey.
John Lehmberg, thank you for your friendship. I appreciate the time we've spent together and I value the conversations we have.
Joe Kissack, it was great to reconnect with you! I'm grateful for our friendship.Years ago, you and your story inspired me to do the difficult tasks I didn't want to do to move forward in my life. Your friendship helped me out of the hole I fell into, and it helped me work out of my jadedness and pain and back into who God had intended for me to be.
Thank you, Keith Taylor, Toby Bloomberg, Craig Williams, Allison Miller, Philip Engle, Dean Carrera, Syd Walker, Addison Williams, Fred Spring, & Stew Davis for participating in the monthly Path Of The Freelancer meetings and helping me to make the book better.
Thank you, Rob & Robyn Loew, for hosting our church gospel community group. You've fostered a wonderful and safe place to learn about Jesus and support brothers and sisters in Christ.
Thank you, Frederic Bien, for the fun and dynamic conversations we've had via Facebook!
Nicholas Clay, thank you for your friendship. I love having a friend who I can share and discuss My Utmost For His Highest!
Clients
Thank you, Tom Telford (Cedar Creek Cabin Rentals), Greg Hart (Hiawassee), & Dennis Murray (Wellness), for providing me the opportunity to work on the numerous projects we've tackled over the past year. We've accomplished new and exciting things in our efforts to grow the company through Hubspot and other technologies. The work we've done this year has made up 25% of my freelancing workload! I've personally garnered great value in our journey together and look forward to what's ahead.
Thank you, Dixie McCurley & Steve Gross, of Trusted CFO Solutions. I appreciate the opportunity to work with you on your marketing initiatives. I've particularly enjoyed the work we've done on your website and believe it presents you and your company in a compelling way. I look forward to our future activities and helping to grow your business.
Thank you, Jeff Martineau, for the opportunity to work together. I've enjoyed getting to know you and your business, Clarity Sales Associates. It's also been a pleasure helping to revamp your website and set a strategy to help you anchor and scale your business. 
Deenie McKeever and Laurie Johnson, I appreciate the opportunity we had this year to work together on the 2016 Atlanta event and to continue to improve the McKeever's First Ride website. It's been an enjoyable, meaningful and important journey for us all and I'm glad we got to go on it together. I look forward to seeing how our paths will continue to bump into each other as we move forward with our lives :-)
Thank you, Rick Bembas & Curtis Gibbs. I appreciate the opportunity to reconnect and work together again after Noodlehead Marketing's shutdown. We've got quite a history over the years, and I enjoy the work we do for Ecotech Machinery. It's never dull moment with you guys :-)

Thank you,

Cynthia Bancale

for providing an enjoyable and supportive work partnership. It's been a wild ride finishing and launching the

new Hubspot website

for

OpenEye

, and I appreciate and value the journey.

Henri Darby, I'm grateful for the opportunity we've had to work together on upgrading and improving the website and marketing efforts for Trinity Electronic Labs. We've made great strides towards presenting your company well and leveraging the site to prevent customer service issues. I appreciate your trust in me to help move us forward, and I look forward the work we have ahead of us.
Thank yo,u Bryant Cornett for hiring me to improve your Wordpress website. I've happy to have helped you grow a piece of your commercial real estate business, DTSpade.
Thank you, Joel Cordle, for choosing to work with me. It's been a heck of a wild ride for you and I'm grateful I for the opportunity to provide a light in the midst of it.
Thank you Rick Davenport and the team at Roofing Atlanta Inc. I've enjoyed spending time at your office, and I look forward to launching your new website soon.
Thank you, Alicia Guillette and Kenna Quiroga of Valley Box Company for choosing to work with me. I've enjoyed advising and helping to improve your website and search engine rankings. Peace & Grace to you as you both introduce new humans to this world :-)
Ellen Bristol, I appreciate you reaching out to work together to improve the Bristol Strategy Group Hubspot website. I've valued our conversations and finished work and look forward to working together in the future :-)
Thank you, Bryce Angell, for directing the work you sent my way this year. We knocked out a variety of tasks for your firm and CoCounselor and I appreciate you choosing to work with me. 
Daniel Eichholz, I appreciate the opportunity you gave me to help you improve and launch new Wordpress websites for Track My Leads and your law firm.
Thank you, Laura Collier, of Braselton Stover Event Center, Don & Michelle Capoferri, of Precision Pain Relief Center, Jennifer Tompkins, of Richmond Signscapes, Lauren Lowe of Lauren Elaine Interiors, Steve Lively of Cloud Calculus, Sobem Nwoko of Joyfields Institute, Alana Kelly of Gitche Clean, & Dan Telford, for choosing to work with me.
Created on .
Last updated on .