Bedrock Tracking Metrics For Building A Long Standing Scalable Digital Platform & Blog
I've been thinking about the most important metrics to track for growing this blog. Google Analytics and other similar marketing tools provide hundreds and thousands of options, but which are the bedrock of a successful online platform? And, what do these pillar metrics look like? What attributes do they have? 
Steady, recurring, minimal management, & high leverage were four phrases that came to mind as important values for these highly important numbers. They acted as my guide to nail down the most important metrics.
In 2015, I wrote a blog post about my software toolbox. It got retweeted and drove a thousand visitors to my blog. But once the wave passed, almost none of them came back to the website and I didn't have a way to capture their email address at the time. If this unexpected quick success was the hare, the metric I'm seeking is the opposite of this, the tortoise. Slow and steady. Something I can truly rely on for growth. 
The three metrics that came to the surface as the ones to monitor and grow were organic driven visitors, email list size, and returning users. Let's take a quick dive into each.
Search Engine Traffic Over Time


The graph shows organic traffic for this blog since January 2017.
Once a page is ranked, a steady stream of traffic flows in, unlike social media sharing or paid ads. The incentive for the author is to create an abundance of quality content, ideally in the least competitive topics to generate the largest amount of search-driven articles. While promotion still matters with the creation of content, the financial and time burden is not as significant or costly as paid or social promotion. With substantial traffic, we're able to leverage it to capture the visitor's contact information for direct relationship cultivation.
Email List Size Over Time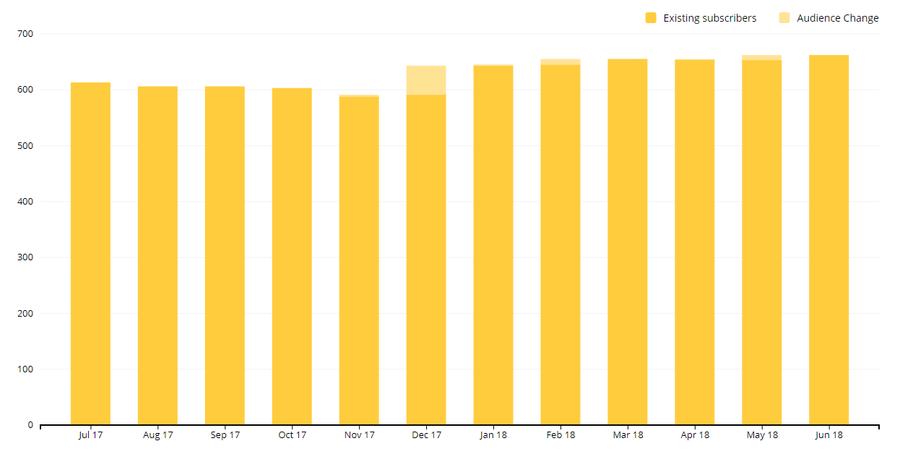 The graph shows my email list decline and growth over the past 12 months.
Email list size is an indicator of audience ownership. With organic website traffic, we're beholden to the search engines. With email, we have a direct relationship with our audience, giving us more powerful options to connect. Email marketing also allows us to stay in touch with visitors who came from the search engines or other channels. This leverage point allows us to shape future habitual engagement for the benefit of the consumer and creator.
Returning Visitors Over Time


This graph shows the number of returning visitors to this blog since January 2017.
When we have visitors return time and time again, we've likely built habits in their lives which revolve around consuming our content. This is likely done by providing value and consistently delivering on the expectations we set. 
While this journey may have started with search engines and cultivated with email prodding, this activity is sustained through consistently delivering day after day, month after month, and year after year. By continuing regular quality activity, we'll keep the machine moving forward and foster opportunities to have meaningful engagements that allow for real impact.
It wasn't until I ramped up my publishing schedule in the weekday blogging challenge that this metric grew to a meaningful level. As I continued posting blogs three times per week it continued. With almost a year of consistent new content, people get an idea of what type of content they'll receive and at what frequency. If those align well, they'll stick around as long as I'm contributing.
The Future
As I continue contributing stories and systems to help people work smarter and live better, I'll be keeping a close eye on these three metrics with a focus on growing them. Keeping a simple and focused view on what matters most will provide me the best pulse check to move this forward and upward.
What do you think? What metrics are the bedrock of building a long-term sustainable digital footprint? Which numbers will you keep an eye on going forward? 
---
Hero Photo by Mirko Blicke on Unsplash
Created on .
Last updated on .