Which Type of Marketing Neglect Best Describes Your Business?
How accurately are you projecting your business to the world? Better or worse than you really are? Accurately?
I believe marketing is a reflection, or projection (although sometimes distorted) of a company's identity, values, and operational maturity.
In school growing up, my teachers used projectors to teach classes. They wrote on the projector and the writing displayed on the wall. This is a terrific visual for thinking about marketing as simply the mirror of what is displayed. It's a banner to communicate a message and get bypassers to take a moment to look, inquire, and ideally engage. 
At Noodlehead Marketing, our mission was to obliterate marketing neglect and there are two primary categories (excluding intentional misrepresentation) of this neglect.
This first includes immature organizations with stellar marketing. In other words, they look great online and on paper, but they can't deliver on their promise and the set expectation. 
The second involves intentional companies whose marketing lacks the message and professionalism to properly portray them to the world. Simply put, they're better than communicated. 
Driving Positive Change
As a marketer, both of these scenarios are a travesty. But, both are fixable and they are an important professional drive when I'm consulting with my clients. 
When working with the first group, I'll leverage strong marketing success to drive operational improvements. When I've demonstrated results and that success is compromised by operational failures, it's a powerful tension to drive positive improvement. 
When working with an operational strong company with a poor public reflection, I lean on creating quick wins to drive up revenue. When I know we've got a strong ability to deliver on the promise, I know marketing can quickly grow the organization. By demonstrating this quickly it'll begin to snowball and build momentum providing inspiration for the company to take marketing seriously. 
Take Marketing Seriously & Project It Accurately
The key in either scenario is an awareness of how accurately we're representing ourselves in this public promotion. If we're a young organization learning the basics, let's present ourselves accurately instead of as super awesome. Otherwise, we'll attract the wrong types of clients and repel the right ones. 
If we're operationally sound, let's make sure we communicate what we take for granted. People won't come just because you build something. We need to convey the insight that makes our business great in a compelling and relevant way.  
Excellence & Intentionality
Unexpectedly, marketing acts as a terrific barometer for the business and where its strengths and weaknesses lie. When there is harmony between operational strength and a compelling and powerful marketing message and presentation, very few things will slow your company down. And this is what it looks like for an intentional organization to reflect excellence.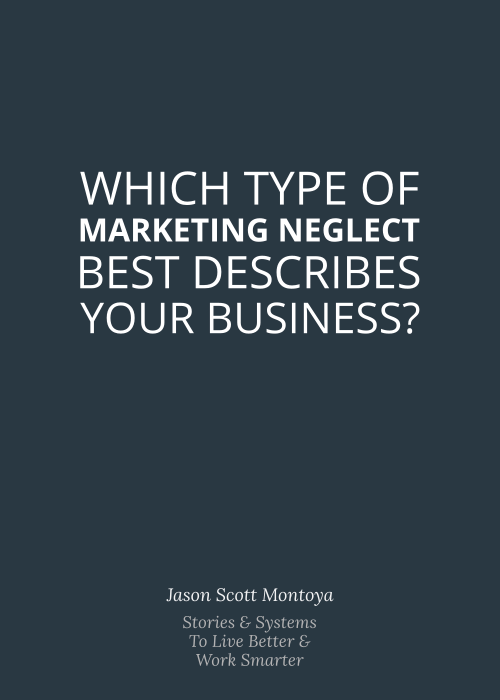 ---
Hero Photo by Jeremy Yap on Unsplash
Created on .
Last updated on .