Launching Movie Shapes — A Better Way To Rate & Share Movies You Love (or Don't)
While watching the latest Taylor Swift documentary (Folklore) on Disney+ about the backstory of her new songs created during the pandemic, she discussed how this difficult year has been a catalyst for creators. When faced with uncertainty, creators create!
At the offset of the pandemic, I partnered with a friend to launch a health company called Hygenie. You can visit the now-abandoned project's website here. The missional idea, one I'm still fond of, was to provide Solutions To Protect Your ENTIRE FAMILY From The Unnecessary Spread of Disease. Fortunately, my paid consulting work was steady this year and I wasn't able to dedicate time to build this new business beyond the initial idea. It was for the better.
Great Ideas or Great Businesses
In retrospect, the project — Movie Shapes — that did get launched, which I'll explain below, is a much better fit for my current and future business aspirations. Sometime along Jim Collins' life journey, Peter Drucker spoke the following to him illuminating this fork in the road he was facing. It resonated with me deeply.
"Jim, listen. You can either build great businesses, or you can build great ideas. You can't do both. So you've got to choose." 
At this fork in the road, I've chosen great ideas, not building great companies. That's the spirit of which I shut down Noodlehead Marketing and why I won't start another agency. This exercise between building a "Great Business" or a "Great Idea" was a useful one to further illuminate and clarify for me the road on which I am going down (much like considering employment opportunities gave me clarity for my freelancing path).
Since I began my path towards building "Great Ideas" in 2014, I've continued consulting to generate an income for me and my family while I write for this site, author books, and launch new ideas out into the world. Two important idea projects I've launched include The Island Story, a parable of our journey through life, and IDEMA, a framework for capturing and sustaining new ideas.
Introducing Movie Shapes
Now, I get to share an exciting new idea and project for those who love watching and sharing movies! Like Hygenie, this new project was birthed and now launched inside the pandemic year with my good friend, Addison Williams (comedy screenwriter, entrepreneur, and former Special Operations combat veteran). In 2017, we each wrote about our perspective about what we could learn from the director of Star Wars episode 9 being fired.
What began with a discussion about a film we both love, Avengers: Infinity War, ended with us work-shopping a system to make sense of why we like the movies we do. In many ways, we have different preferences for movies, but Infinity War is one example of where our love of movies intersected. We've also lamented about the unhelpfulness of movie recommendations that come from Netflix, Rotten Tomatoes, or movie critics. Some of the best movies I've discovered came from very specific people who recommended these movies. How could we replicate that type of success? Perhaps a matching making system for people and movies?
My friend and I wanted to know if it was possible to know what we prefer in our movies and whether that would act as a predictive model for finding movies we love. If this was found true, it would also provide a much more effective system for sharing movies. Instead of generically sending movies to my friend that I liked, I could instead filter those recommendations based on what his preferences would indicate (and vice versa). Since we both have at least 4 kids and are entrepreneurial, we both have limited time to watch movies and so the ones we watch need to count (minimizing wasted time). The more we can filter out movies we won't like before we watch them, the better. But, we also don't want to miss out on the movies we would surely love.
This is the type of thinking that spawned our creation of Movie Shapes. Currently, Movie Shapes is a simple concept built into a spreadsheet prototype tool to create a profile using 14 intersecting attributes (which you can learn about on the Movie Shapes website). The same tool is also used to rate a movie. If you're interested in learning more or getting started with your own Movie Shapes profile, click here.
My Movie Shapes
Below, are my Movie Shapes. The first illustrates my preferred movie values and the second indicates my preferred audience attributes. Visit the Movie Shapes website here to learn what these values mean.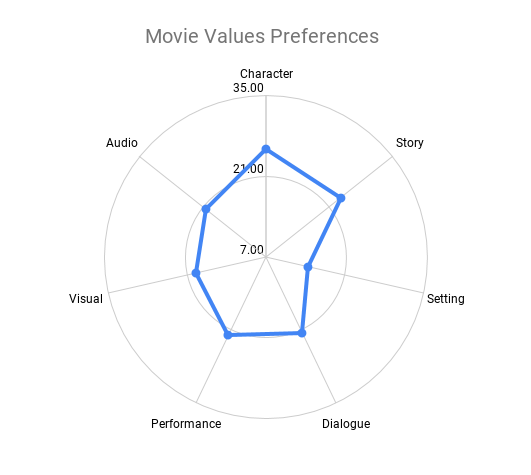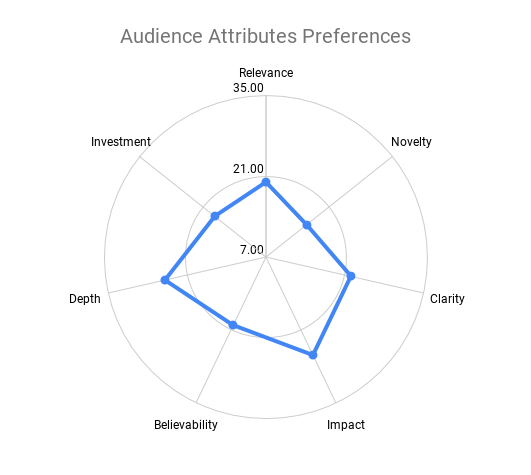 Here is the list of my top 7 cross-attributes.
Character

Depth

Character

Impact
Story Depth
Audio Impact
Dialogue Impact
Performance Impact

Character

Relevance
Created on .
Last updated on .