Price Drop For Path of the Freelancer: Now $14.99 (Paperback) & $9.99 (Kindle)
As an experiment prompted by a friend, I'm dropping the price of Path of the Freelancer: An Actionable Guide to Freelancing from $25 (for either version) to $14.99 for the paperback and $9.99 for the Kindle edition.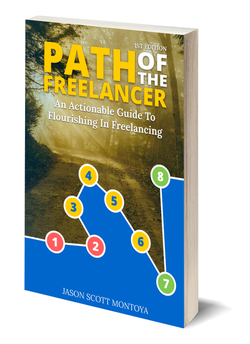 If you have not yet purchased a copy of the book or you know a freelancer friend, make Path of the Freelancer a gift for the holiday season. 
I'd love to continue the matchbook option, so anyone who buys the paperback would get the Kindle version for free, but unfortunately, Amazon has discontinued this program. So, pick the medium you prefer to read Path of the Freelancer: An Actionable Guide to Flourishing in Freelancing. 
I'm excited to learn how this pricing experiment may continue and grow sales for the book over the long haul. If I can sell 3-4 times the number of copies, I'll consider it a successful strategy and one I'll make permanent. 
Any lessons learned will also inform my future pricing strategy rollouts for The Jump. 
Created on .
Last updated on .