How The Iceberg Effect Illuminates How Much We Don't Know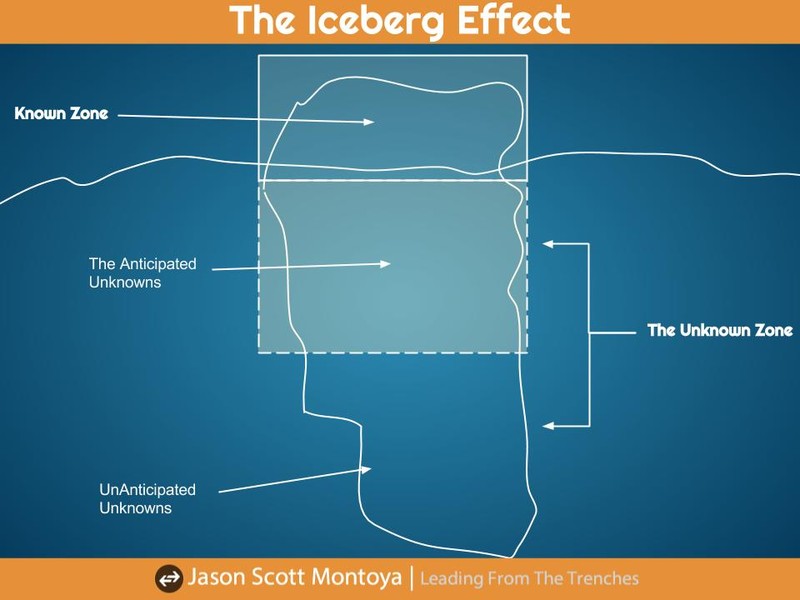 The Iceberg effect is a visual metaphor to help us more realistically face life and work.
Any time we face a project, relationship, friend, employee, church, or anything, the top of the iceberg is what we can immediately see.
For example, when watching a political presidential debate we see the top of the iceberg for the candidates we're interested in supporting.
When we start a new project, we think it will only take 2 weeks, when in reality it's a 2 month long project.
When we have experience in a particular area, we visualize what the iceberg looks below the tip of the iceberg. While we don't know for sure, we can reasonably anticipate the unknowns that are likely and unlikely to happen. This helps us better anticipate the successes and failures we'll face.
No matter how experienced and knowledgeable we are, we will inevitably face the unexpected unknowns in life, work and projects. It's the deep abyss with no end. It could be something or it could be nothing. 
In 2001, numerous New York companies planned for what they knew and what they expected could happen to mitigate their risk and maximize their chances of success. At the end of the day, they did not expect a group of terrorists to attack the world trade towers and change their entire lives.
It is wise for us to plan for what we know, what we anticipate and a little extra for for the complete unknown. Outside of this, it requires we trust in something more powerful than the unanticipated unknowns.
For me, I choose to trust in God. How about you?
Created on .
Last updated on .